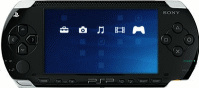 Sony Corp.
has revealed at
E3
that it will attempt to increase its competition with
Nintendo
's
DS Lite
handheld console by offering a slimmer model of the
PlayStation Portable (PSP)
in September. Both the
PSP
and DS were launched in late 2004 but the DS console has performed the best of both, with sky rocketing sales recently.
"From a distance, this PSP might not look very different from the current model ... but when you have it in your hand, the difference becomes quite clear,"
Sony Computer Entertainment Chief Executive
Kazuo Hirai
said.
"It's actually 33 percent lighter than the current PSP. It's also 19 percent slimmer."
Nintendo sold 23.6 million DS units in the year ended March 2007, outpacing PSP shipments of 8.4 million. The PlayStation Portable (PSP) uses
UMD
games and offers excellent graphics as well multimedia features allowing photos, music and videos to be played using the device, among many other excellent features.
The DS handheld has two screens, opens like a book, and allows the user to control most games using a stylus and/or a normal keypad. The slimmer version of the PSP will go on sale for $170, the current price of the PSP. Nintendo's DS Lite sells for $130.
Source:
Reuters