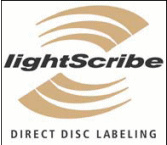 LightScribe
has announced that an additional 12 hardware brands, personal computer and optical drive manufacturers, media brands and disc publishing systems manufacturers have licensed its direct disc labeling technology, bringing the total number to over 80 hardware and software companies now licensed to use the technology.
Apricorn, Ativa, Gear Head, and Sony; personal computer manufacturer MESH Computers; optical disc drive manufacturer Sony NEC Optiarc; media brands Ativa, Intenso, KODAK Media Products, and Vakoss; and disc publishing systems manufacturers Advanced Digital Research, Amtren, and Mexty Productions are among the latest to license the technology.
The growing base of disc publishing systems manufacturers represents growing application of LightScribe products in the small-to-medium business (SMB) market. Over 40 million LightScribe-enabled drives and 150 million CDs and DVDs have shipped to date. Additionally, LightScribe-enabled drive shipments account for 17% of all
DVD
burners manufactured
on a monthly basis.
"Recent customer research shows LightScribe in use by business and consumers alike,"
said
Kent Henscheid
, marketing manager for LightScribe.
"Frequent users of optical media are particularly appreciative of LightScribe media's professional look and prefer it over other labeling methods."
Source:
Press Release