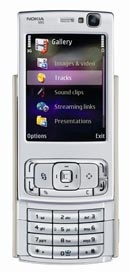 The
Federal Communications Commission (FCC)
appears to have given its blessing to the long-rumored American version of the popular
N95
smartphone. All devices using U.S. airwaves must receive approval from the FCC before they can begin shipping in the territory. A lot of the features and specs seem similar to the regular N95, but what does stand out is a boost in memory to 8GB (same as highest capacity
iPhone
).
The casing color has changed to black and the lack of a camera cover seems to allow a higher capacity battery to be used. Input keys and directional controls appear to have shrunk also. A manual mentions the
Nokia Music Store
and the use of
Windows Media Player
to sync audio and video content with a PC. A new multimedia menu is also shown as well as information about the new
N-Gage
platform.
As with all NSeries phones, the N95 s built on the Symbian OS and S60 interface. It weighs about 4.2 ounces. It uses mini-USB for data transfers to other devices and a slot for a microSD card for storage expansion.
Source:
PDAStreet