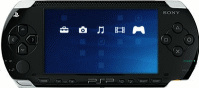 Sony Corp.
will sell a satellite navigation accessory from February 2008 for its handheld
PlayStation Portable (PSP)
games console. The company made the announcement at the
Leipzig Games Convention
on Wednesday. This move will bring Sony's gaming and portable entertainment device into direct competition with companies like
TomTom
and
Garmin Ltd.
that make satellite navigation equipment.
Sony Computer Entertainment Europe (SCEE)
boss,
David Reeves
, said that the accessory for the PSP handheld will cost between €100 and €150 ($135-$200). The PSP competes with
Nintendo
's DS handheld console in the market for handheld gaming devices, but Sony strives to also sell its PSP as a multimedia entertainment device, adding useful features over time through firmware updates.
While the Nintendo DS is by far the market leader, Sony has shipped 24 million PSPs globally since launching the device in December 2004.
Source:
Yahoo (Reuters)