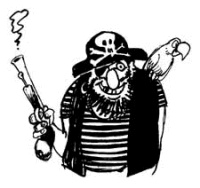 RIAA
-style tactics are being employed in Singapore to help stomp out the sharing of
Anime
content.
Odex
, one of the largest regional distributors of licensed Japanese anime VCDs, believes that Internet downloading is eating into its profitability. In November of last year, the company claims to have hired U.S.-based
BayTSP
to help it track downloaders/sharers of Anime in Singapore.
By April 2007, BayTSP had tracked 50 different titles which showed over 400,000 downloads in Singapore alone. Odex decided to get the contact information of 3,000 individuals by IP address (though claims the number targeted is a lot less) and as we
previously reported
, two ISPs did give in. However, it appears a third case has just run into trouble with a Judge.
Judge Earnest Lau
threw the case out, saying that Odex was only a
"sub-licensee"
from the Japanese firms that created the anime, not an
"exclusive licensee."
The judge also doubted that Odex had in fact hired BayTSP.
"Apart from a bare allegation, there is no evidence that the Plaintiff engaged BayTSP to undertake the tracking of anime downloaders,"
he wrote.
He continued:
"This tracking solution does not appear to be a simple software tool meant for the use of unsophisticated end-users. Even if Go [the Odex director] had operated a supposed software himself, there is nothing to convince me that he possessed the necessary credentials and expertise to operate the tracking solution and interpret its data to the conclusions maintained by him. Moreover, Go is a managing director of the Plaintiff and is ostensibly a businessman in the video distribution trade, a field somewhat removed from internet software investigations."
BayTSP didn't testify on Odex' behalf nor did it supply an affidavit confirming it was hired by the company. However, it has been reported more recently that BayTSP's CEO is now supporting Odex. Just like the RIAA's pre-litigation letters, Odex offers an individual a chance to settle out of court. The company claims that the efforts have brought in only 20% of the cash it has spent on enforcement efforts.
It has also brought in a lot of criticism. Unhappy Anime fans have speculated on public forums about improper motives behind the litigation and some have even issued death threats against people in the company.
Source:
Ars Technica