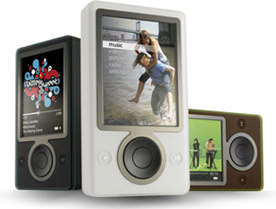 Microsoft Corp.
has dropped the price of its
Zune
music player on Wednesday, no doubt aimed at making ripples while
Apple
is expected to announce updates to its
iPod
line-up. The price of a Zune has been dropped from $249 to $199. The gadget offers limited Wifi capabilities and features a 30GB HDD, 3" display and an FM tuner. It is available in many different colours including White, Brown, Black, Baby Pink and Watermelon Red.
There has also been releases of two Zunes based on the mega-popular
Halo
franchise and just 100 pink Zunes that were made available during the initial rollout of the music player. Like many others in the market, Microsoft generally failed to crack the dominance of the iPod. In fact, interest in Zune has been so poor at times that the announcement of a price drop is probably nothing new for many consumers.
Many retailers have been selling the Zune for around $199 for months already and
Woot.com
was recently selling the white Zune for just $149.
Source:
DailyTech