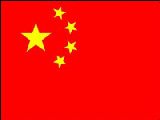 The
Optical Memory National Engineering Research Center (OMNERC)
has announced
CH-DVD (China High Definition DVD)
. This next-generation optical disc format includes Chinese-owned intellectual property, and is based on
HD DVD
, the next generation high definition
DVD
approved by the
DVD Forum
. The realization of CH-DVD was supported by the Chinese government, and will pave the way for the localization of blue-laser, high-definition DVD in China.
OMNERC has established the
China High Definition DVD Industry Association (CHDA)
in cooperation with the DVD Forum and Chinese and international partners. CHDA will play a leadership role in the promotion of CH-DVD, and will make a big push to launch CH-DVD player into the Chinese market in 2008.
The emergence of CH-DVD as a high definition format integrating Chinese-owned intellectual property clearly demonstrates that a Chinese optical disc technology is already at the world-class level. In the near future, all related industries in China are expected to make the transition from standard definition DVD to high definition DVD.
In the next year, China will start broadcasts of high definition TV programs. In combination with
HDTV
, CH-DVD will provide a wide variety of HD content that will enrich the lives of viewers.
Source:
Press Release