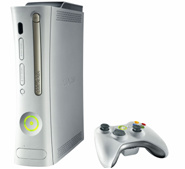 Microsoft Corp.
has had very little success in Japan with its
Xbox 360
games console. Even in the
PlayStation 3's (PS3)
worst days in its makers home market, it still outsold the Xbox 360 2 to 1. However, Microsoft has repeatedly tried to push the console further in the face of such poor sales performances, and at the Tokyo Game Show on Wednesday, Microsoft has some good announcements to make.
One of the most important announcements was support from
Square Enix
, which up until now has held out on the Xbox 360. The developer will create two titles for the Xbox 360 platform, including
Infinite Undiscovery
and
The Last Remnant
. Both games appear to be RPG games, which are very successful in Asian markets.
Tomonobu Itagaki from Team NINJA/Tecmo Ltd. and Hironobu Sakaguchi from Mistwalker also appeared at the conference to voice their support for Microsoft's platform.
"We continue to evolve our strong relationships with Japan's best and most innovative developers, and we're looking forward to delivering exclusive high-definition titles for consumers worldwide, this year and beyond,"
Interactive Entertainment
chief
Don Mattrick
said.
Microsoft has a very tough battle to fight to convince Japanese consumers to invest in Xbox 360. Between August 27 to September 2, the console sold only 1,635 units, compared to 39,371 Wii units and 18,068 PS3 units.
Source:
Betanews