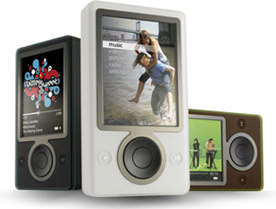 Next month,
Microsoft Corp.
will revamp its portable media player (PMP) offering,
Zune
, according to an insider. The source confirmed that an image allegedly displaying the new line-up is in fact accurate. It shows a big change in the control function of the Zune, offering an
iPod
-like
"squircle,"
a circular 4-way directional pad with a button at the center.
The new Zunes will apparently come in black, red and pink, which Microsoft dropping the often criticized brown color scheme. The new Zune model will offer 80GB storage and will completely replace the 30GB model, according to the source. An additional flash-based model will also apparently be available. The official price for the Zune player right now is $200.
The prices are expected to match those of
Apple
's iPod prices. The release is expected on October 16th, while the one-year anniversary of the launch of Zune will come on November 17th.
Source:
Electronista