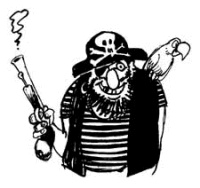 Italian police have struck out at administrators and users of the
Discotequezone
DirectConnect (DC)
file sharing hub. Police have confirmed that the network administrators, plus seven people who uploaded large volumes of copyrighted music, are now being prosecuted. The raids, carried out during the past weeks by the Fiscal Police for Bergamo, were coordinated by the Public Prosecutor from Brescia, with assistance from the music industry anti-piracy organization
FPM
.
This is the second stage of the operation which started in March with several servers seized by the police. A total of 11 computers and more than 110,000 illegal
MP3
music files were seized in the operation which was carried out between Rome, Milan and Brescia. The sharers may now face fines up to €8.5 million according to Italian copyright laws.
Some 170 Italian file-sharers and illegal network administrators have been criminally prosecuted for music piracy in Italy in the last two years.
Source:
Press Release