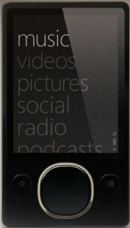 Microsoft Corp.
has updated its line of
Zune
MP3
players, showing off three new models it hopes will cut somewhat into
Apple
's dominant share of the market for MP3 players. A new black Zune model is thinner than the original, and comes with a new 80GB hard disk drive (HDD), replacing the 30GB unit released less than one year ago.
The black Zune has a 3.2-inch screen and like the original Zune, it sports WiFi capabilities for sharing music with other Zunes and an FM receivers. The new Zunes sport shiny glass screens and a new touch-pad for navigation. As well as the HDD model, Microsoft is also offering flash memory-based models. Similar in shape and size to the original
iPod Nano
, the new pink, green, black and red flash-based Zune models offer 4GB or 8GB of storage.
The new models will go on sale in mid-November, with the 80GB model selling for $249, 4GB model selling for $149 and 8GB model selling for $199. The prices match the iPod line-up.
"There's nothing earth-shattering there,"
said
Van Baker
, an analyst at the research group
Gartner
.
"Maybe next year they can make an aggressive push against Apple."
Source:
Yahoo (AP)