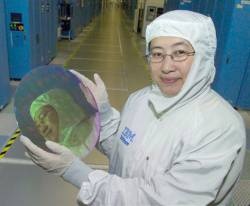 Normally on opposite sides of the fence, especially in the next-generation format war between HD-DVD and
Blu-ray
,
Sony
and
Toshiba
are negotiating an agreement to work together in producing the
Cell
processor. In this agreement, Sony hopes that their joint venture will assist in bringing costs of production down as well as push towards integration of the powerful Cell processor into other electronic devices.
Negotiations are still underway however they are expected to fully share responsibility by April of next year. According the preliminary deal, Toshiba will own 60 percent of the shares while the remainder will be split between two remaining Sony companies. Additionally, Sony stated that it will sell its production line plant in Nagasaki to Toshiba which is responsible for producing the Cell processor. Currently under Sony's leadership, the Cell processor is produced using 65-nanometer process technology, but under the direction of Toshiba, the chip will see 45-nanometer processing. This means smaller, cheaper and more energy efficient Cell chips in the future.
Source:
PC World