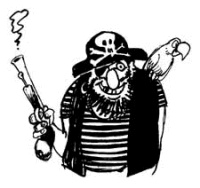 A Dutch court has handed out fines up to €15,000 to several Rotterdam shopkeepers for selling counterfeit Bollywood material. Three of the defendants were also given community service sentences of up to 200 hours and a three month conditional prison sentence. The action stemmed from a March 2005 raid which led to the seizure of more than 140,000 CDs and DVDs containing Indian music and movies from 13 shops across Rotterdam.
The raids had involved around 100 officers from the Dutch fiscal police, supported by investigators from record industry bodies
IFPI
and
BPI
as well as Dutch anti-piracy group
BREIN
, who assisted the authorities in identifying illegal product. Most of the illegal product originated in Pakistan, a major source of illegal copies of popular Indian films and music.
"Despite the high profile of online piracy, the sale of counterfeit Bollywood CDs and DVDs is still a major problem in the Netherlands. We are pleased with this verdict that sends a strong message to shopkeepers tempted to make a quick profit by selling illegal product,"
said
Tim Kuik
, Managing Director of BREIN.
Source:
Press Release