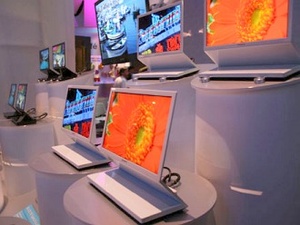 At the
Consumer Electronics Show (CES)
,
Sony Corp.
is showing off one of the potential candidates to replace both LCD and
Plasma display
technology. A lot of media attention has been given to
organic-light-emitting-diode (OLED)
display technology in recent years, and for good reason. The technology offers lower power consumption at a time when the world is more conscious of energy consumption than ever, and a much brighter picture.
It is not without its problems however. First of all, it is incredibly expensive to mass-produce as a viable display option for TV viewing these days, and technical problems hold back displays from growing. There are issues to work out with how long an OLED display will
"live"
also. Nevertheless, consumer electronics companies are in a competition to make this technology usable and cheaper to manufacture.
Sony is to start selling an 11-inch OLED display immediately for about $2000, quite a bit more than you'd expect to pay for a much larger screen using a rival technology. It is just 3mm thick, and Sony is actually currently developing flexible OLED displays but that is still in the lab stages.
"You are going to see us do bigger sizes down the road. It is a new technology that is going to take several years before it competes with plasma and LCD,"
Sony Electronics President
Stan Glasgow
said.
Glasgow also claimed that Sony has not yet been affected by the economic woes in the United States. Technology shares are being impacted by woes that a slowdown will impact the performance of the biggest players in the industry.
If you are interested in other OLED developments, check out
Samsung's offerings at CES
.
Source:
Reuters