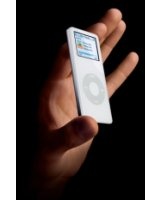 Apple
's popular
iPod Nano
shoots out sparks in Japan when being plugged into a charger,
reports Reuters.
The Japan Trade Ministry stated that this incident will initiate an investigation into the product and Apple to find out why the little audio player self destructed.
No one was hurt in the incident and Apple has already claimed that they are looking into the cause of it and whether or not there have been any similar cases that may warrant a recall. Apple officials in Japan were not immediately available for comment.

The incident, involving an earlier model sold in Japan, the MA099J/A, occurred on January 8 in Kanagawa prefecture near Tokyo, the official said. Apple reported the matter to the ministry on March 7. Approximately 420,000 Nanos have been sold in Japan since September 2005.