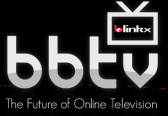 Popular video sharing entity
Blinkx
is
offering a new service
called
BBTV
. The
Joost
-like service combines video content with speech and visual recognition technology, and combines the video content with the Internet in a whole new way. Offering full-screen TV-quality video, BBTV can link what you're watching with relevant information on the Internet - learn about who's on-screen, what's being said and more.
To use BBTV, you must be using Windows 2000, XP or Vista. It is delivered in the form of a 1.8MB installation file.
"The Web is the largest repository of connected information in the world on any subject and from myriad sources,"
Blinkx founder and CEO
Suranga Chandratillake
said.
"BBTV delivers television over the Internet, but it also fuses that TV with the wealth of information on the Web, rather than appearing as just another layer floating above it."
The service offers content from about 40 different independent movies, as well as Blinkx' current partners and plans to expand the content offered within the next few months.
More information:
http://www.blinkxbbtv.com/
---
Get regular news updates from AfterDawn.com by
subscribing to our RSS feeds
using the
Subscribe
button below. If you have been living in a cave for a few years now and don't know how to use RSS feeds, then
Click Here to read a Guide on how to use RSS (and other) feeds
.