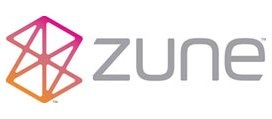 Trying everything in its power to catch up to the market leading
Apple iPod
,
Microsoft
has released a new update for their
Zune
player that attempts to bring more social aspects into music file sharing. The portable media player received yesterday an update that allows users to download the last nine songs played by their friends as well as up to nine songs flagged by their friends as favorites.
This update to the Zune software that synchronizes the player with a person's music library on the PC and Microsoft's own Zune Marketplace is a clear indication that Microsoft hopes to snag a bit of that market share away from Apple. They feel that building a social network with these media players will attract more customers to their side of the fence. Last November, Microsoft launched the website Zune Social where users could browse each other's playlists and share opinions on the songs and bands contained. This update is the next step in that evolution.

In order for users to trade songs with one another, they need to subscribe to Microsoft's mobile music service called Zune Pass. This service costs $14.99 per month and allows the user to download any of the 3.5 million songs in Microsoft's library to their Zune. A contrasting payment policy when viewed against Apple's $.99 per track option.

Of course many researchers believe that Apple's dominance in the portable media player market is far too strong for any real competition to be formed. Only time will tell if Microsoft's new direction takes away any of Apple's 71% market share.