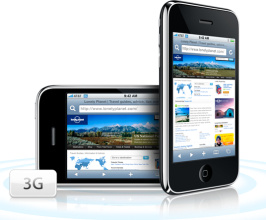 BusinessWeek
is reporting that
Apple
will fix problems being reported with the
iPhone 3G
handset with a software update, rather than a more expensive approach such as a recall. Floods of complaints about problems using 3G networks, dropped calls and other issues spread across the Internet, cuing the blogosphere to debate and speculate on what might be causing the problems.
According to the BusinessWeek report, which cites two
"reliable sources"
, the root of the problem is a communications chip made by Munich-based
Infineon Technologies (IFX)
, already predicted in an analysis by
Richard Windsor
of
Nomura Securities
. The software on the chip apparently leads to problems when the iPhone needs to switch from high-speed networks to lower speed networks.
While there has been considerable Internet buzz around the problem, the sources say that only 2% to 3% of iPhone traffic is being affected.
"This is a problem, but it's not a catastrophe,"
one of the sources said. Infineon spokesman
Guenther Gaugler
did not comment on the chip's performance in the iPhone but pointed out that comparable problems have not arisen because of the chips presence in other phones made for manufacturers such as
Samsung
.
AT&T
, Apple's exclusive partner in the U.S., has not commented on the problems, but insists that,
"Overall, the new iPhone is performing just great on our 3G network."