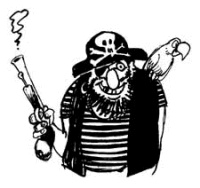 In mid-October, the
Argentine coast guard
targeted one of the most notorious piracy markets. The
La Salada
market has been targeted before, and has a reputation for housing enormous amounts of counterfeit products. The
Economic Crime Unit
executed several search warrants on warehouses around the market, located in the suburbs of Buenos Aires.
The raids were the result of an investigation that lasted for a year, targeting imported products entering the Port of Argentina found to have suspect invoices and to be undervalued. The products would (and do) end up in pirate markets all across the country as they move through the illicit chain.

The actions yielded five million discs containing music and films, 63 burners, two industrial printers and 200 master plates that are used for professional album cover replication. Several organized crime syndicates have been identified as operating in the market.