Pioneer
has introduced its new
LX01BD
Blu-ray
Disc home cinema system, complimenting the
HD
video of Blu-ray with
"exclusive audio technologies"
. Sporting a distinctive and compact three-dimensional speaker design, it is ideal for Pioneer's line up of
Full HD
Kuro
televisions. The LX01BD incorporates a
profile 1.1
, BonusView Blu-ray Disc player that opens up a wide range of
high definition
entertainment options.
To provide lifelike motion picture, it provides
HDMI
Deep Colour support, which enables a wide range of colour tones and smooth transitions. The LX01BD has an integrated 5.1 channel amplifier and comes with compact dodecahedron technology derived satellite speakers that generate sound fields in all directions.

The LX01BD is capable of processing the latest audio formats
DTS-HD
and
Dolby
TrueHD and will reproduce every note in high definition studio quality. Pioneer's proprietary
Multi-Channel Acoustic Calibration System (MCACC)
analyzes the sound characteristics of the listening room and calibrates the system accordingly, while potential standing waves are effectively minimized, using Standing Wave Control.
Pioneer's LX Series component/systems, are the perfect visual complement for the KURO Flat screen TVs. And that's no different for the LX01BD, which shares the KURO plasma's minimalist aesthetics, elegant lines and characteristic piano black finish. The system's aluminium top plate makes a high-end statement and provides great durability.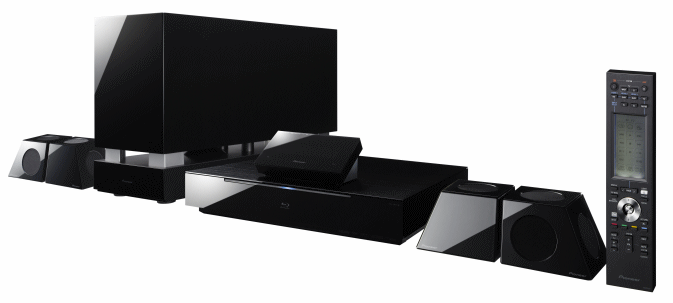 This system retails at approx £2,000. Pioneer does not set RRP so pricing is up to the dealers.