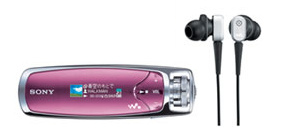 Tokyo-based marketing research firm,
BCN Inc.
, has said that
Sony
Walkman
players managed to outsell
Apple
's
iPod
line-up in Japan last week - the first time it has happened in four years. Despite once being the kind of portable music, and revolutionizing how music fans listen to music with the original Walkman, Sony has had to stay in the shadow of Apple in the portable digital media player market.
In the week to August 30th, Sony's share of the market in Japan reached 43.0 percent, just ahead of Apple at 42.1 percent. However, the news is not entirely good for Sony for two reasons. Firstly, overall sales of portable music players are on decline in Japan, and secondly, the iPhone is not included in figures from the market, even though many consumers pick it over an iPod.
Nevertheless, BCN said that Sony has generally been benefiting from an expanded product line-up and more affordable prices. The Japanese electronics giant has hit tough times in recent years due to rival products in divisions it used to conquer in, such as
Xbox 360
and
Nintendo Wii
in the console market, and the iPod in the portable music device markets.
The company reported its first annual loss in 14 years in May, and appears to be on track to make further losses for a second year - something that
hasn't happened to the company since the mid-20th Century
, which has led to 16,000 jobs being slashed.