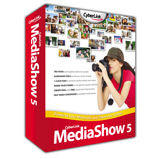 CyberLink Corp.
has announced the availability of
MediaShow 5
, which helps users to easily organize, fix/restore and share photo and video content with each other. MediaShow 5 is created for consumers to handle the large amounts of digital content that we hoard nowadays, due to the increased usage of digital still cameras and camcorders, often built into mobile phones and other equipment.
"Proliferation of video and photo capture devices such as affordable cameras, camcorders and even cell phones, allows consumers to capture their life stories anytime, anywhere. In fact, we are taking more videos and photos than any generation,"
said
Alice H. Chang
, CEO of CyberLink.
"MediaShow 5 incorporates the latest video and imaging technologies to help consumers organize, fix, and enhance their media, and then share their life stories."
MediaShow 5 adds many new enhancements for users, including Face Recognition that can make organize/indexing photos much easier, easy solutions for fixing photos and videos captured in poor conditions (low light for example), hardware acceleration (when available) for CPU and GPU to speed up not only the manipulation of content but also conversions of it into formats for specific players and more.
Here are some details taken from the MediaShow 5 release...
Face Tagging and Sorting: Precise face recognition technology helps identify people in photos with up to 95% accuracy—even when they are wearing sunglasses or facing away from the camera. Complementing this precision, MediaShow groups photos of similar looking people, and provides suggestions as to who is in each photo. Sorting is thus quick and easy. Meanwhile, optimization for NVIDIA CUDA hardware acceleration reduces analysis times by up to 50%. MediaShow lets anyone tag the faces in 1000 photos within 10 minutes.
One-Click Fixes: common video and photo errors—like poor lighting, shakiness and inaccurate white balance—can be easily removed with one click. The new Edit Log allows end-users to review and undo their changes at any time and also apply their changes to groups of photos or videos.
Speedy Video Conversion: Optimization for CPU and GPU accelerated processing delivers faster video transcoding providing performance gains up to 10X faster than systems not optimized. End-users simply select their preferred profile and MediaShow converts files for their specific device. MediaShow is optimized for Intel Core i7, NVIDIA CUDA and ATI Stream technology.
Creative Slideshow Tools: New slideshow templates, animated text styles, and transitions, let anyone quickly turn photos into creative slideshows. MediaShow 5 lets consumers combine videos and photos, add music, and insert color boards for chapters.
Online Sharing: Output to Facebook, Flickr and YouTube offers direct access to three of the most popular platforms for sharing videos and photos online. MediaShow supports Facebook tagging, enabling consumers to automatically upload their tagged photos
The software now available
Online
and costs $49.99 new, or $24.99 as an upgrade.