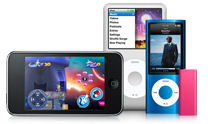 The European Commission is preparing a mandate for the manufacturers of portable media players (PMP), to address concerns about consumer hearing loss due to noise levels of players.
Meglena Kuneva
, European Commissioner for Consumer Affairs, will present details of the mandate to develop standards for personal music player manufacturers, which will apply to
MP3
player makers and music-capable mobile handset makers.
The details are not available yet, but it will emphasize the need for manufacturers to take steps to protect the hearing of their customers. The
EU Scientific Committee on Emerging and Newly Identified Health Risks
reported recently that between 5 percent and 10 percent of listeners are risking permanent hearing loss by listening to a PMP for an hour a day over the course of several years.
The
Royal National Institute for Deaf People
in the UK is supporting the Commissioner's Mandate, and confirmed to
The Register
that the document will be presented before the European Parliament.