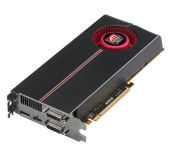 Earlier this week,
AMD
launched its most powerful processor to date (based on raw compute horsepower measured in FLOPS), found in its next-generation
ATI Radeon HD 5800
series graphics cards. The Radeon HD 5800 series is the first to fully support
Microsoft DirectX 11
, which will be shipping with the
Windows 7
operating system. AMD will initially release two cards: the
ATI Radeon HD 5870
and the
ATI Radeon HD 5850
, each with 1GB GDDR5 memory.
The 5800 series will be supported by a handful of add-in-board companies, including
ASUS
,
Club 3D
,
Diamond
Multimedia, Force3D,
GIGABYTE
, HIS,
MSI
, Multimedia, PowerColor,
SAPPHIRE
Technology, VisionTek and XFX.
"With the ATI Radeon HD 5800 series of graphics cards driven by the most powerful processor on the planet, AMD is changing the game, both in terms of performance and the experience,"
said
Rick Bergman
, senior vice president and general manager, Products Group, AMD.
"As the first to market with full DirectX 11 support, an unmatched experience made possible with ATI Eyefinity technology, and ATI Stream technology harnessing open standards designed to help make Windows 7 that much better, I can say with confidence that AMD is the undisputed leader in graphics once more."
Modeled on the full DirectX 11 specifications, the ATI Radeon HD 5800 series of graphics cards delivers up to 2.72 TeraFLOPS of compute power in a single card
One ATI Radeon HD 5870 graphics card would have been one of the top 15 supercomputers in the world just six years ago.