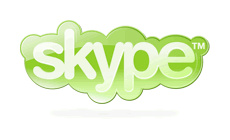 A new plug-in for
Skype
being marketed by Startup
Vivu
brings multipoint videoconferencing to the Skype software; adding functionality that has been absent so far from the service. Failing to deliver multipoint videoconferencing has been viewed as one of Skype's biggest shortcomings, and Vivu is hoping to
capitalize on the vacuum
.
"The flaw in Skype's video strategy right now is that it's point-to-point only,"
said
Irwin Lazar
, an industry analyst with Chicago-based Nemertes Research.
The VuRoom plugin allows several people to take part in a video call using Skype, which the number of participants limited by available
bandwidth
. Vivu CEO
Sudha Valluru
said that the service will allow for up to 8 participants for broadband users before a degradation in quality would become a problem. The participants' feeds will be shown in a browser window that will pop up when the call begins.
The plug-in will cost a user US$9.95 per month for unlimited use. Not all participants in a videoconference need to buy the plug-in; only the user who initiates the call. For other participants, the requirements are just Skype, a webcam and a browser. The plugin also allows participants to show PowerPoint presentations on screen, or to stream their computers' desktop.
Given that the vast majority of Skype users don't pay for any service from Skype, the VuRoom plug-in will have a tough time finding customers who are willing to pay the monthly fee. There is also another big risk; Skype may add multipoint videoconferencing at any time to the software, Vivu's product obsolete. Indeed, many analysts do expect Skype to add the functionality eventually.