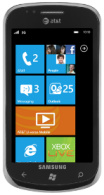 Microsoft Corp.
has launched its latest attack on rivals in the mobile space with the launch of
Windows Phone 7
, which will be available in smartphones launching in the U.S. and Europe over the next few weeks. The software giant said it built Windows Phone 7 from the ground up, with a much simpler user interface for consumers.
The main target of WP7 handsets is clearly consumers, with such strong integration with the popular Xbox Live online gaming service and the less-popular Zune music service. It also provides a suite of Office applications that automatically sync with Microsoft's cloud service for business users.
Microsoft's mobile operating systems have been criticized for limited functionality and a lack of available applications. Nokia' Symbian operating system is clearly the market leader, while Apple's iOS has grown with the popularity of the iPhone propelling it. Google's Android software will overtake Apple's OS soon.
"There's a huge amount resting on the launch of Windows Phone 7 for Microsoft, its device and operator partners, and for the ecosystem market in general,"
said
Tony Cripps
of technology consultants Ovum.
"If it fails to claw back market share lost to iPhone and Android, then Windows Phone 7 may well mark the point at which Microsoft turns its back on smartphones forever."
Seven new handsets with Windows Phone 7 will launch in the UK on October 21, while nine will launch in the U.S. market in November. Handsets will be offered up by established partners such as
Samsung
,
LG
and
HTC
. The question for Microsoft's new OS is whether it can surpass its rivals in terms of usability and functionality.
"On the face of it Windows Phone 7 looks to have positioned Microsoft on the edge of a smartphone renaissance,"
Cripps said
.
"Its all-important user experience looks to have brought some genuinely new thinking to a smartphone market in which all operating systems feel somewhat similar in use."
Microsoft will be hoping for another positive response to its new product, following its recent success with Windows 7 for home PCs, the growing popularity of its revamped search engine Bing and the widely positive reviews for early versions of its upcoming Internet Explorer 9 web browser.