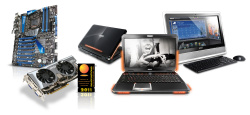 MSI Computer Corp.
has unveiled its new line-up of notebooks, all-in-one devices and components powered by Intel's next generation Sandy Bridge Platform at CES.
The company has unveiled its line of
G Series
and
F Series
notebooks. The
GT780
,
GT680
,
GE620
and
GR620
all come powered by second generation Intel Core i7 quad core processors and feature USB 3.0 support.
The 17.3-inch GT780 and 15.6-inch GT680 offer advanced DirectX 11-ready
nVidia GeForce GTX 500
Series and 400 Series graphics cards along with
Dynaudio
speakers. Both incorporate MSI's
Turbo Drive Engine (TDE)
technology, accelerated dual SSD storage and 4 SO-DIMM DDR3 memory slots allowing for up to 16GB memory.
The 15.6-inch GR620 and GE620 are designed for casual gamers, and feature nVidia GeForce GT Series discrete graphics cards. The GT680 ships in January with a base price of $1499.99 while the GT780 follows in Q2 for an undisclosed price. No release or pricing details are available for the GR620 or GE620.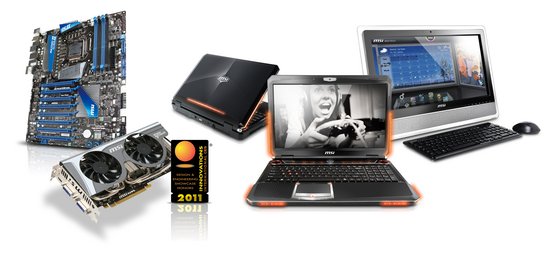 MSI's new F Series notebooks feature Intel second generation Core processors, GMA3000 display chips, Intel Turbo Boost Technology 2.0 and Intel Hyper-Threading technology. MSI is showing off the 17.6 inch
FX720
and
FR720
, and 15.6 inch
FX620
and
FR620
models at CES, featuring Intel Core i7 processors.
The FX420, FX620, and FX720 units include discrete graphics modes, which support DirectX 11;s high performance NVIDIA GeForce GT 500 Series discrete graphics card with 1GB DDR3 of display memory. The new F Series models are scheduled to launch in Q1 2011, priced from $699.99.
MSI also made additions to its all-in-one (AIO) PC units, showing the
Wind Top AE2210
and
AE2410
. Both models feature a 16:9 theater-grade widescreen display and a 1080P Full HD high resolution panel. Built on Intel's newest high performance Sandy Bridge platform, online gamers won't need to upgrade in order to receive the benefits of a discrete graphics card.
The new AIOs are slated to ship in Q1 2011, with the 21.5" AE2210 starting at $799.99 and the 23.6" AE2410 starting at $899.99.