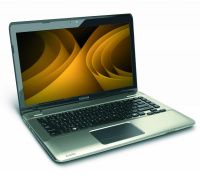 Toshiba's Digital Products Division introduced the new cutting-edge Satellite E305 laptop at the Consumer Electronics Show (CES).
The laptop represents the third collaboration between Toshiba and Best Buy as part of the retailer's Blue Label initiative. The Satellite E305 features an all-new exclusive design, hallmarked by a lightweight Aluminum cover and sturdy case with an LED-backlit raised tile keyboard, and features a tray-loading Blu-ray drive. It sports a 14-inch diagonal widescreen LED-backlit display.

The Satellite E305 is powered by the second generation Intel Core i5 processor. Using Next Generation Intel Wireless Display technology, the laptop can be connected wirelessly to a HDTV for playback of content up to 1080p.

It features USB 3.0 support with Sleep & Charge features, offering up to 5Gbps bi-directional signaling speeds. It comes with a hybrid drive setup, which features 4GB of flash storage that enables quick access to commonly used files and applications, seamlessly integrated into a spacious 7200RPM 500GB hard drive.



Some SKUs come with integrated support for WiMAX 4G networks. It comes loaded with the Microsoft Windows 7 Home Premium operating system, Wireless-N Wi-Fi, HDMI port and touts an average charge life of more than 7 hours.

The Toshiba Satellite E305 will be available this spring from Best Buy.



"Toshiba and Best Buy continue to work hard to bring customer-centric laptops like the Satellite E305 to life," said Carl Pinto, vice president of product development, Toshiba America Information Systems, Digital Products Division. "We've packed this laptop with advanced technology so consumers can get the performance needed to enjoy the ultimate in entertainment while balancing their desires for easy mobility."