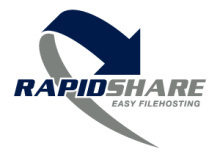 Anti-fraud firm MarkMonitor has said that file locker and easy file-sharing sites like RapidShare, Megaupload and Megavideo, receiving enormous amounts of traffic due to piracy.
The firm monitored traffic levels to illegal files on 43 file sharing sites and found that it amounted to about 53 billion visits per year.
RapidShare
,
Megaupload
and
Megavideo
alone
received more than 21 billion visits
to illegal content stored on their servers.
"The numbers are staggering,"
said
Charlie Abrahams
, vice president of MarkMonitor. The study was carried out following requests made by the US Chamber of Commerce. The figures put file locker services right up there with file sharing networks.
"These upload sites index their files. It is very easy and convenient,"
Mark Mulligan
, an analyst at research firm
Forrester
, said.
"Upload sites, alongside instant messaging and blogs, are now on a par with peer-to-peer sites when it comes to piracy."
Copyright holders have attempted to address the problem by taking on RapidShare in several countries. RapidShare scored a victory in Germany this week when the Higher Regional Court of Dusseldorf ruled that it does not have to install filters demanded by rights' holders, and found that the Swiss company was already taking reasonable measures against piracy.