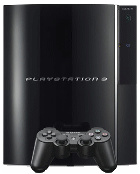 Rome Research Lab completed construction of, and is using, a "supercomputer" composed of off-the-shelf PlayStation 3 (PS3) consoles.
The lab linked together 1,716 PS3 consoles and exploited the
OtherOS
functionality (I guess they didn't update then) to build what they are describing as one of the world's fastest and cheapest supercomputers. They claim it is in the top 40 most powerful supercomputers.
Dubbed,
The Condor
, the system is intended to provide analysts with new levels of detail from pictures gathered from spy planes. It is part of military developments aiming to achieve constant and detailed surveillance over a wide area.
The Condor will enable 24-hour real-time surveillance of a roughly 15 mile-wide area, allowing video processed from radar signals to be viewed in real-time or played back. Such a system can help to investigate the moments before an event such as an explosion or an ambush on military units.
"You can literally rewind or predict forward (in the future), based on the information you have,"
Mark Barnell
, director of high-performance computing at the Rome research lab, said.
The project was started when
Richard W. Linderman
, then senior scientist at Rome's Air Force research lab, bought a PS3 and played around with OtherOS at home. Out of curiosity, he told his research team to attempt linking eight of the Sony console's together, and was impressed with the result. So then he decided to get 336 and see how that would work out.
Eventually, the project
secured $2.5 million from the Department of Defense
to assemble the supercomputer. In the end they ended up with a system of 1,716 PS3 consoles interconnected. An equivalent system built by other means would cost easily ten times more. It also uses a fraction of the energy consumed by other supercomputers, and groups of consoles can be turned off easily when they are not required.
Along with ground images being processed by the U.S. Air Force using the Condor system, it has also been used to process ground-based images taken of objects in space. For example, it snapped pictures of the space shuttle orbiting earth at 5 miles per second, taken from the ground. While other systems produce a blur for the shuttle, the Condor processed a sharp and detailed image, where it was easy to see that the payload doors were open, for example.
While this does show how the PS3 can be used for a lot more than gaming, Sony might not be as delighted as one would think about this application. Considering the team started amassing PS3s off the shelves back in 2006 when the PS3 was fresh from the oven, and costing up to $600 a unit, the Condor probably represents quite a loss for Sony, which would have paid much more than the retail price of the console just to make it. The money is made back through the sale of video games for the platform, for which Sony receives royalties.
This fact has been considered as a major reason why Sony decided to kill off OtherOS.