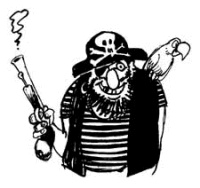 Danish man in his 20s pays high cost for uploading DVD Screener because he was "bored".
In February of last year, anti-piracy group
Antipiratgruppen (APG)
carried out a raid on a house in Herning, Denmark. The target of the raid was a man in his last 20s, who was identified as a source uploader of a DVD screener copy of the
Anders Matthesen
movie
"Black Balloon"
using the
Pirate Bay
.
The man, whose username was
Icenfire
, did not upload much else to Pirate Bay, yet at the time of the raid, the significance of it was played up by APG, with lawyer
Maria Fredenslund
claiming to have uncovered
"massive violations of copyright."
After taking out an injunction to stop Icenfire from continuing any piracy activity, APG said it would review evidence and seek compensation for losses. APG said that Icenfire was targeted because he was the initial uploader, but they they would not
"sue him to hell."
A District Court in Herning has now ordered the man to pay 150,000 kroner ($28,200) to compensate for losses due to the activity, and an additional 40,000 kroner ($7,500) in legal fees.
"It is a very important decision because it establishes that it is a serious violation of the law to be the first to make illegal material freely available to other users,"
said Fredenslund
in response to the fine.