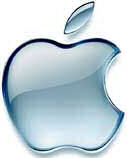 Latest development in on-going dispute between both giants.
A court in South Korea revealed on Friday that
Apple
sued
Samsung
in the country, alleging that Samsung products infringe several of its patents. Samsung had previously sued Apple in South Korea, as well as Germany and Japan. Apple has accused Samsung of blatantly cloning its products.
An Apple lawyer revealed last week that top executives of both firms were in talks over the patent disputes, as they have a very strong business relationship. Apple was Samsung's biggest customer in the first quarter according to Samsung's reports, with Apple buying up enormous amounts of semiconductors.
Samsung is, however, one of Apple's biggest rivals. It's
Android
-packing smartphones compete directly with Apple in the mobile market, while Samsung has also emerged as the clear rival to Apple's iPad in the tablet PC market. Some of Samsung's products are strikingly similar to the iPhone, from the device dimensions, to the user interface, and even the packing.
That is no coincidence, says Apple, but Samsung has also accused Apple of patent infringement and said in a previous filing that it was
seeking compensation
for damages.