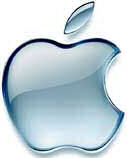 Apple fires latest shot in patent war with South Korean consumer electronics giant.
Earlier this week,
Samsung
filed a complaint with the
U.S. International Trade Commission (ITC)
seeking a ban on the import of iPads, iPods and iPhones that it says infringe several of its patents. Apple fired the next shot on Friday when it
asked a U.S. court to issue a preliminary injunction
to prevent Samsung from infringing three Apple patents.
It all started in April when Apple sued Samsung in a California federal court, alleging that the firm
"slavishly"
clones its mobile products. Samsung quickly countersued Samsung in California. Apple then sued Samsung in South Korea and Samsung went to the ITC.
Patent rows have been flaring in recent years between tech giants who are looking for their slice of the smartphone and tablet PC market. After this latest action from Apple, Samsung responded with defiance.
"We're going to actively protect and defend our intellectual property and our ability to provide consumers with innovative technology,"
Samsung spokesman
Kim Titus
said. Apple also asked for a trial in the case to be fast-tracked so the intellectual property disputes may be cleared up.