Has four tuners, double the recording space and is THX Certified.
TiVo announced its
TiVo Premiere Elite
set-top box earlier this week. It packs four digital tuners and a 2TB hard drive which is says is good for 300 hours of Full HD recordings. It is TiVo's first and only DVR with four tuners allowing for simultaneous recording of four different shows while viewing a fifth recorded program.
The TiVo Premiere Elite is intended for use with digital cable systems only and does not work with analog cable or over-the-air antennas. It maintains TiVo's easy to navigate user interface, integrating Web entertainment 'from Netflix, Pandora, Hulu Plus, Amazon Instant Video, YouTube, and much more.
"We are pleased to announce the TiVo Premiere Elite at this year's CEDIA show as this product was designed specifically for the high-end custom home theater integrator or enthusiast looking to complete their home entertainment system with a best-in-class TV experience. Only TiVo Premiere Elite seamlessly combines digital cable programming with the best of Web entertainment, in full 1080p HD, and with 300 hours of HD recording space,"
said
Doug Bieter
, Vice President of Retail Sales for TiVo Inc.
"With the added distinction as a THX-certified DVR, the TiVo Premiere Elite offers a high-end solution for premium quality installers looking for an improved way to get the most out of a customer's high definition television and cable subscription."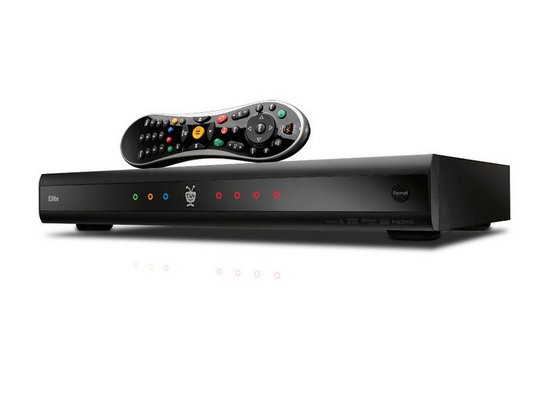 TiVo Premiere Elite Box Specifications
:
TiVo Series4 architecture
Supports digital cable, high-definition digital cable and Verizon FiOS
THX-certified DVR, offering optimal video and audio fidelity
Outputs: HDMI, Component video, Composite video, Optical audio, Analog audio
Video output modes include: 480i, 480p, 720p, 1080i, 1080p
Inputs: CableCARD™, Cable coax, Ethernet
Additional support for USB 2.0 (2 ports), eSATA for external recording space, TiVo Wireless N or G Network Adapter
2 Terabytes of recording space for up to 300 hours of recorded programming
The TiVo Premiere Elite will be available by the end of year through
TiVo.com
, authorized home theater installers and Magnolia stores, pending approval of TiVo's request that the FCC waive a requirement to include an analog tuner.