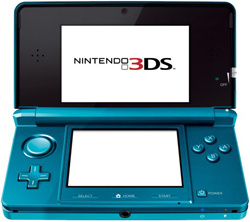 Nintendo hopes a big push in 3DS software will help to pick up disappointing sales.
Nintendo President
Satoru Iwata
promised an unprecedented range of games at an event held two days before the Tokyo Game Show. Some of the games will feature Nintendo's adored Mario character, while others will take aim at female gamers.
"From the end of this year to the beginning of next, we are planning the kind of extensive line-up that has probably never been seen before in the history of video games,"
Iwata told reporters
and guests at the event.
"We will make an all-out effort to see that the 3DS sells enough to become the successor to the DS."
Earlier Nintendo DS models have sold a staggering 148 million units to the end of June this year. The 3DS has been underwhelming in comparison, selling just 710,000 units in April - June of 2011, forcing Nintendo to slash the price of the handheld. It had sold 3.6 million units in the first month after its launch.
Nintendo's handheld is now also competing with Apple's iPhone, iPad and dozens of devices that run the Android mobile operating system.