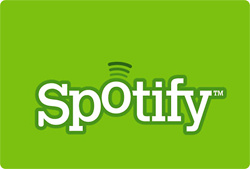 Spotify finally entering Europe's largest market.
The music streaming service is already available in the United States and many European countries. Until now, it was widely believed that
Spotify
stayed out of the German market due to possibly high licensing costs.
Gema
, the group responsible for collecting royalties in Germany, has a reputation for being very aggressive.
Spotify's rival,
Grooveshark
, had to pull out of Germany this year over licensing costs. At the Reeperbahn music conference in Hamburg in 2010, Spotify was brought up in a debate. A representative for Gema,
Alexander Wolf
, said bluntly that if Spotify wanted to launch in Germany, it would need a dramatic change to its business model.
Since then, Spotify had gained many premium subscribers willing to pay a monthly fee to get rid of time limits and adverts. Some major music companies also have equity in Spotify, and may have forced Gema to ease up its stance.
The service has added German albums to its catalog, pushing its number of available tracks to 16,000,000.
"It's the third largest music market in the world and is a very important market,"
Jeff Levick
, the firm's chief sales officer told the
BBC
.
"We took it very seriously and had wanted to make sure that when we did launch in Germany it was the right time with the right product as well."