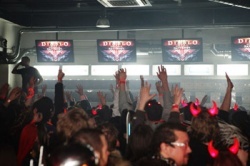 Blizzard Entertainment putting more servers online.
The eagerly-anticipated
Diablo III
launched this morning, putting
Blizzard
's servers under enormous pressure very quickly. The PC and Mac-only game requires an Internet connection to play, even if you do not want to play online, which makes server problems far more serious.
The
support forums
for the title have a lot of complaints and requests for technical assistance from gamers. Blizzard said it was addressing the problem by putting more servers online as needed.
Still, the game launch was seen as a big success for Blizzard. About 1,500 fans showed up at its Californian headquarters for the midnight launch. They got to observe artists at Blizzard sketch out characters from the game, as well as watch new footage and take part in quizzes.
"There's nowhere I'd rather be tonight,"
fan
Ian Noble
said at the event.
Jay Wilson
, lead designer of Diablo III, said he hoped that the fans would be excited about the new iteration of the series. Wilson joked that the developer took so long to finally release Diablo III because they were goofing off most of the time, but then said the real reason is Blizzard's commitment to quality.
"We're very focused on quality. If we think something is not good enough, we make it better. We redo things, which is really uncommon in game development. If we build a level and don't like it, we'll throw it out,"
he said
.
The game is expected to sell about four million copies.