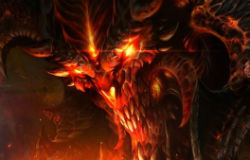 Server overload is not the only headache for Blizzard.
It confirmed reports that there is a game breaking flaw in its new blockbuster for
PC
and
Mac
. Apparently, gamers get thrown out of the system if they attempt to give a shield to a character known as the Templar follower.
This new flaw follows Blizzard's efforts to address server overload problems. So many gamers were unable to play the title after launch that
"#error37"
was trending on Twitter. As an anti-piracy measure, you are required to have a constant-on Internet connection to play Diablo III.
Now Blizzard has confirmed the new bizarre bug.
"We're aware of this issue and working to resolve it as quickly as possible. Thank you all for your reports,"
the developer said
.
The developer had already been forced to take down websites in an effort to dedicate more servers to the game. Users on Twitter commented about how difficult it was to get the game started.
"Man, Diablo III is super hard. I've been playing for 30 minutes and haven't even defeated the login screen,"
one Twitter user said.