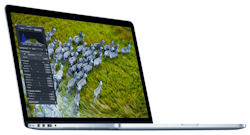 New 13-inch MacBook Pro with Retina Display.
The new MacBook Pro is just 0.75 inches thick and weighs just 3.57lbs, making it 20 percent thinner and just under 1lb lighter. The 227 ppi display was predicted to be a feature of a new 13-inch MacBook Pro over the last few weeks. It comes with a FaceTime HD camera, dual microphones, improved speakers, three-stream 802.11n Wi-Fi, Bluetooth 4.0, and a MagSafe 2 power port.
The new notebook features a 2.5 GHz Intel Core i5 processors with the option to choose faster 2.9 GHz Intel Core i7 processors, Intel HD Graphics 4000, 8GB of 1600 MHz memory, and up to 768GB of flash storage. Two Thunderbolt and two USB 3.0 ports allow users to connect to multiple displays and high-performance devices, and a new HDMI port offers quick connectivity to an HDTV.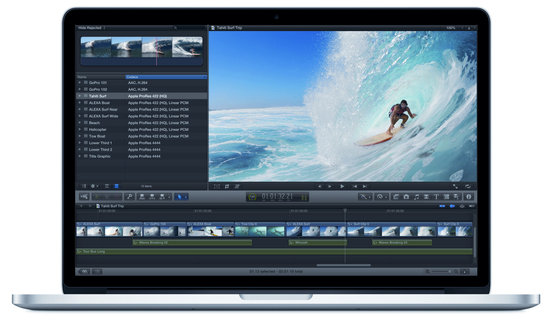 The 13-inch MacBook Pro battery delivers up to 7 hours of wireless productivity and can remain in standby for up to 30 days, according to Apple.
The new MacBook Pro ships with OS X Mountain Lion.
"The 13-inch MacBook Pro is our most popular Mac, and today it gets completely reinvented with a new thin and light design, fast flash storage and a gorgeous Retina display,"
said
Philip Schiller
, Apple's senior vice president of Worldwide Marketing.
"With vivid colors, razor sharp text and more pixels than anyone else's 15 or 17-inch notebooks, the Retina display completely changes what you expect from a notebook."
Pricing & Availability
The 13-inch MacBook Pro with Retina display is available with a 2.5 GHz dual-core Intel Core i5 processor with Turbo Boost speeds up to 3.1 GHz, 8GB of memory and 128GB of flash storage starting at $1,699 (US); and with 256GB of flash storage starting at $1,999 (US). Configure-to-order options include faster dual-core Intel Core i7 processors and flash storage up to 768GB.