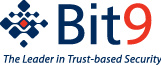 Security firm hacked because it wasn't running its own software.
Bit9
, a company that provides security solutions to customers, said it was hacked and a number of its customers were targeted with malware. It admitted that it could have avoided the hack if it had implemented its own software properly on its network.
Bit9 is a
"white listing"
service provider with customers that range from government agencies to financial firms. White listing protects systems from being attacked by only allowing software from trusted vendors.
The hackers breached a system that Bit9 uses to digital sign its software so that its customers know its safe to run on their systems. They then signed malware using Bit9's digital signature and pushed it out to several of its customers.
"Due to an operational oversight within Bit9, we failed to install our own product on a handful of computers within our network,"
Chief Executive
Patrick Morley
wrote
.
"As a result, a malicious third party was able to illegally gain temporary access to one of our digital code-signing certificates that they then used to illegitimately sign malware."
In 2011, a similar attack was made against RSA Security, when hackers stole information about its SecurID system. Two months after the breach, the hackers used the information to launch attacks against Lockheed Martin.