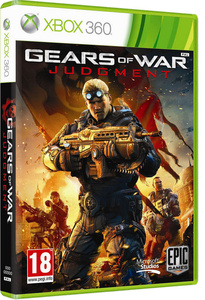 With a copy of Gears of War: Judgment leaking over a month earlier than its release date, Microsoft has warned pirates who download and play it.
As with cases of previous leaks, Microsoft has warned Xbox 360/Live users who download and play the recent leak of
Gears of War: Judgment
, due to be released on March 19.
"We are aware of isolated cases in which Gears of War: Judgment content has been propped on the web and are working closely with our security teams and law enforcement to address the situation immediately,"
a Microsoft spokesperson
told Eurogamer
.
"Consumers should be aware that piracy is illegal and we take vigorous action against illegal activity related to our products and services."
Of course, playing a game that is not even out for a month on Xbox Live is just asking to be banned, so that will come as no surprise. Playing pirated copies of games is a violation of the Xbox Live Terms of Use, and will likely get a console banned from Xbox Live for good.