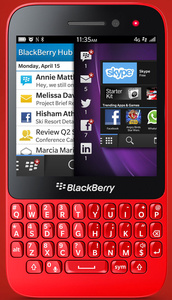 BlackBerry has announced a new BlackBerry Q5 smartphone, which aims at markets outside of North America and at a younger, more price conscious group.
The company was remarkably short on details about the new BlackBerry 10 (BB10) device, but it does retain the iconic QWERTY keyboard and a 3.1-inch touchscreen.

"BlackBerry is excited to bring a new BlackBerry QWERTY smartphone, the BlackBerry Q5, to our customers in selected markets around world," said Thorsten Heins, President and CEO of BlackBerry.

"The BlackBerry Q5 gives you the best of everything with its cutting-edge BlackBerry 10 functionality and a physical QWERTY keyboard. It is for youthful fans that are passionate, confident and bold, and it makes it easy for them to have fun, create, share and stay connected."

The new, lower-cost BB10 device will launch in Europe, the Middle East, Africa, Asia (including the Asia Pacific region), and Latin America, beginning in July.

How much is low cost exactly? Well, we don't know, as BlackBerry failed to deliver that vital detail, prompting more frowns for analysts.