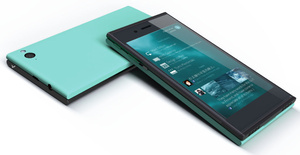 Jolla, a Finnish mobile startup, has announced its first smartphone running the Sailfish OS.
Sailfish
is developed by Jolla in cooperation with the
Mer
project (based on Intel's MeeGo). It sports a multi-tasking user interface that differentiates it from Android and iOS devices.
Today, Jolla announced its first mobile handset, "Other Half", and gave some limited spec details....
Jolla original design with ample 4.5" Estrade display
Dual core and 4G)
Keep it and share with 16GB + microSD
8MP AF camera
User-replaceable battery
The Other Half
Gesture based Sailfish OS
Android app compliant
Shipping is targeted for the end of the year, and one will cost €399.
For more information:
Jolla