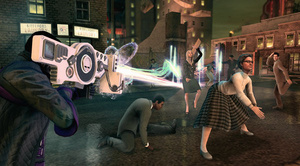 Saints Row IV has become the first game to be refused classification in Australia, effectively banning the game until develop Volition can change its content.
The Australian Classification Board follows the Guidelines for the Classification of Computer Games in determining a rating for a game. The new guidelines only came into effect in January. Before this point, Australia had no category for games intended for an adult audience only, which lead to many high profile titles running into trouble in the country.

However, it would appear the Classification Board finds Saints Row IV so bad that even adults should be protected from playing it in its current form.

In the Board's opinion, Saints Row IV, includes interactive, visual depictions of implied sexual violence which are not justified by context. In addition, the game includes elements of illicit or proscribed drug use related to incentives or rewards. Such depictions are prohibited by the computer games guidelines.



Volition has confirmed that it will now have to modify the content in Saints Row IV and resubmit it in order to release the title in the territory.