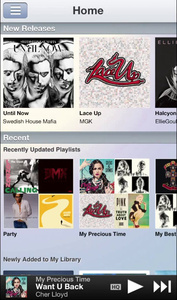 Sony has announced that an update for its Music Unlimited app for iOS devices will come with high quality audio streaming and the ability to listen to music offline.
The v1.3 update is currently being vetted by Apple but it should be available soon. The update brings a feature that has been available on the Android version of the app already, the ability to download individual albums and tracks, as well as any playlists they have created to their device and enjoy music even when a cellular or Wi-Fi connection isn't available, or when they want to conserve battery life or curb data usage.

Users of the iOS app will also be able to listen to 320kbps AAC high fidelity audio while streaming.

High quality streaming will have to be switched on in the App settings. A 12-month membership to the Music Unlimited service is $41.99 for PS Plus members, or $59.99 for those without a PS Plus membership.