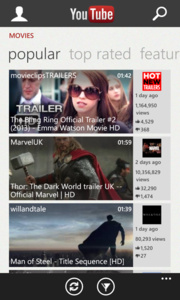 Microsoft has restored its YouTube app for Windows Phone devices after seemingly coming to an agreement with Google.
There was a public spat over the YouTube app back in May, due to the fact that the app could download videos for local playback, and didn't display any ads. When Google lashed out at Microsoft, it removed the ability to download videos but still didn't display any ads.
When Google persisted with complaints, Microsoft pulled the YouTube app altogether and replaced it with an older app.
Now the
newer app has been restored
and displays pre-roll ads on monetized YouTube videos. It also adds a feature to upload videos,
but Ars points out a very annoying limitation
of the feature. Over cell networks, only short videos - less than 5MB - can be uploaded. Anything bigger requires a Wi-Fi connection, but even at that, any video over 20MB requires external power, and any over 100MB simply won't upload.
This is due to the upload being a background transfer, which has some advantages for app switching, but when Lumia phones can record HD videos, even the 100MB limitation is too much.