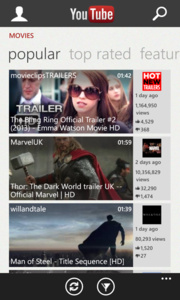 Microsoft has responded angrily to Google's decision to block its re-launched YouTube app, despite the company introducing ads and removing video download features.
The much improved
YouTube
app relaunched this week for Windows Phone devices, with advertisements added before monetized videos. It also lacked a video download feature that Google objected to in May, while adding a (albeit limited) video upload feature.
Reviews for the app suggested that Windows Phone users found it much better than the outdated YouTube app for the platform. However, it appears that Google has found more reasons to block the app on its fierce rival's platform, and Microsoft has responded angrily to its actions in a long statement posted online.
In the statement, Microsoft claims that while collaborating with Google, the search giant asked them to transition to a new coding language for the app, HTML5. Microsoft points out that neither the Android or iOS YouTube apps are built with HTML5.
Nevertheless, Microsoft
"dedicated significant engineering resources"
to examine the possibility, but that eventually experts from both companies found that building a new HTML5 YouTube app would be technically difficult and time consuming to complete - which is why it hasn't been done on Google's own Android, Microsoft asserts.
This week, Microsoft decided to re-publish its YouTube app with other changes, and committed to working with Google long-term to transition to HTML5.
"We believe this approach delivers our customers a short term experience on par with the other platforms while putting us in the same position as Android and iOS in enabling an eventual transition to new technology,"
Microsoft said.
"Google, however, has decided to block our mutual customers from accessing our new app."
Another sticking point between the two is ads. The initially blocked app for YouTube on the platform showed no ads at all, whereas the new re-worked app does. However, Google claims that it doesn't always serve ads based on conditions imposed by content creators. To this charge, Microsoft again claims Google is the problem, saying that it serves ads based on the metadata available to it, and that Google has denied it access to extra information that iOS and Android devices get in order to serve more precise ads.
Google also raises concerns about branding, but Microsoft points out that it has been using the same branding continuously since 2010 for an inferior YouTube app. The last thing Microsoft addresses is Google's assertion that the new WP app provides a degraded experience, which the Redmond giant just rubbishes by pointing out the blanket positive reviews of its app all around and the fact that, again, Google didn't object to the older app which did provide a degraded experience.
So what is Google's motivation according to Microsoft?
"It seems to us that Google's reasons for blocking our app are manufactured so that we can't give our users the same experience Android and iPhone users are getting. The roadblocks Google has set up are impossible to overcome, and they know it,"
the statement reads.
"We think it's clear that Google just doesn't want Windows Phone users to have the same experience as Android and Apple users, and that their objections are nothing other than excuses. Nonetheless, we are committed to giving our users the experience they deserve, and are happy to work with Google to solve any legitimate concerns they may have. In the meantime, we once again request that Google stop blocking our YouTube app."
You can read the full text of the statement at:
blogs.technet.com