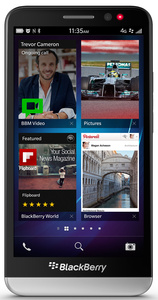 BlackBerry has confirmed the new Z30 smartphone runnign BB 10.2, and featuring some upgrades over the previous BlackBerry Z10.
The new Z30 features a larger 5-inch Super AMOLED display (720p), an upgraded Snapdragon S4 Pro dual core processor at 1.7GHz, 2GB of RAM and an Adreno 320 GPU. Internal storage is also 16GB but can be expanded through the use of a microSD card.

Aiming at business users, BlackBerry has included its new generation of antenna technology that dynamically tunes reception to provide better connectivity in areas of poor signal. The Z30 is also BlackBerry's first smartphone to feature a 2880 mAh battery.

The Z30 is LTE-compatible (no specifics on bands), supports Wi-Fi (802.11 a/b/g/n), Bluetooth 4.0 and NFC.

Another touted improvement is with sounds; the Z30 features stereo speakers that immerse you in your music, videos, apps and games, and makes conversations sound like you're face-to-face, the Canadian firm claims. BlackBerry Natural Sound is new technology exclusive to BlackBerry and part of BlackBerry 10 OS version 10.2 that makes BBM Voice and BBM Video chats sound more natural and realistic.

Other improvements and features include the BaclBerry Priority Hub which organizes your e-mail, messages and social media data by priority, and also the new in-app message preview that allows you yo respond to a message from any app. However, both these new features come from BlackBerry 10.2, which will be available soon as an update for some older BlackBerry devices.



As for availability, The BlackBerry Z30 smartphone will roll out from select carriers and retailers around the world beginning next week in the UK and Middle East, and all other regions going into the holiday season. Unfortunately there is no pricing information until carriers roll out the device.