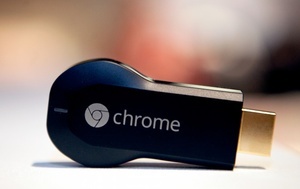 Google has posted a short video showing Google Chromecast working with a tablet, phone, laptop and TV.
Chromecast is basically another system that aims to bring content from your laptop and mobile devices to your HDTV over a home network, not that much unlike AppleTV and other services.

It works with Netflix, YouTube, Google Play, Chrome and more.

Working with Android tablets and smartphones, iPhones and iPads, Mac and Windows, you can choose what to play, control playback and audio levels with your device as your remote control.

The Chromecast hardware plugs directly into the HDMI slot of a HD TV, and is powered by connecting to a USB port. It costs $35.