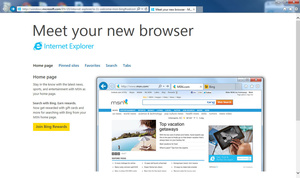 Windows 7 users can now download the latest version of Microsoft's Internet Explorer for the Windows 7 operating system.
Up until now, Internet Explorer 11 was only available as a release preview for the Windows 7. The final build of Internet Explorer 11 is now available to download, and it brings considerable performance improvements with it over IE10.
Pre-fetch and pre-render features deliver faster loading times than previous versions of the browser, and a "Flip Ahead" feature makes switching back and forth between pages on a site must faster.
Download Internet Explorer 11 for Windows 7 from:
windows.microsoft.com